Check this page frequently for photos from Michigan Rheumatism Society Events.
Congratulations to the Michigan Rheumatism Society for achieving another milestone. We are so grateful to the members and staff that participated in the 1st Annual MRS Advocacy Day on Tuesday, April 12, 2022. We began the day with a briefing from lobbyists, Brian Henderson, Coalition of State Rheumatology Organizations and Scott Kempa, Michigan State Medical Society. We held face to face meetings with our legislators/staff throughout the day to educate them on timely topics for Rheumatology practices and patients. Our discussions included:
1. Thanking them for the recent passage of the Prior Authorization Bill that MRS, along with the "Health Can't Wait Coalition" has been working on for over two years.
2. Step Therapy was taken out of the "Prior Authorization" bill. Thirty-three (33) states around the country have already been successful in passing legislation reforming Step Therapy. We discussed that these reforms are needed now in Michigan and how our practices and patients are affected without it.
3. Co-Pay Accumulators House Bill 4353 ensures that all copay assistance counts by requiring that all payments made by or on behalf of the insured go toward a patient's deductible and out- of-pocket costs. HB 4353 passed the Michigan House with overwhelming bi-partisan support and is currently awaiting further action in the Senate Health Policy & Human Services Committee.
Thank you to the following for representing MRS and educating our Legislators:
Tim Laing, MD (Retired- University of Michigan) – Ann Arbor
Amar Majjhoo, MD – Shores Rheumatology - Saint Clair Shores
Great Lakes Center of Rheumatology – Lansing
Antonio Giannelli, PA-C
Joshua June, DO
Brooke Warner – Office Manager
Rochester Rheumatology Clinic & Infusion Center – Rochester Hills
Nikolina Berishaj – Office Manager
Delfin Santos, MD
We look forward to holding this event again in 2023!
The term spondyloarthritis (SpA) encompasses a spectrum of related inflammatory conditions with a predominance of either axial or peripheral manifestations.1 The figure illustrates the individual diseases within the SpA family spectrum (Figure 1).2
Patients with axial SpA (axSpA) have inflammation in the sacroiliac joints (SIJs) and/or the spine.2
Non-radiographic axSpA (nr-axSpA) comprises a subset of patients with axSpA who have no definitive structural damage to the SIJ evident on x-ray (Figure 2).2
Read More the Full Article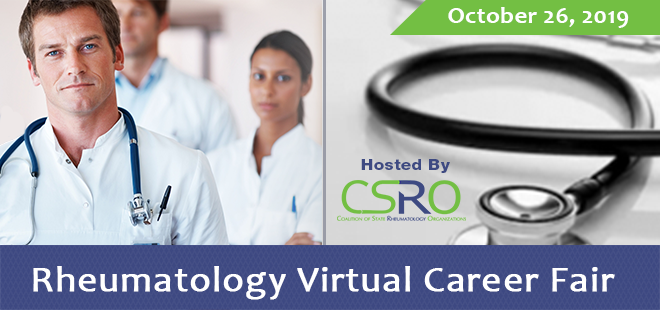 Saturday, October 26, 2019
12:00 p.m. to 4:00 p.m. (EDT) online
CSRO has created its very first Rheumatology Virtual Career Fair to aid in matching fellows and rheumatologists looking for employment opportunities with practices and academic institutions that are hiring.
CSRO's Virtual Career Fair is meant to provide a better way for physicians, practices, and academic institutions to find each other and make professional connections!
Fellows and current rheumatologists looking for employment are strongly encouraged to register. Practices and academic institutions are also invited to register to host a booth to meet and chat with potential hires from across the country.
Dear Member:
The Michigan Rheumatism Society (MRS) is teaming up with SPARTAN-GRAPPA to present the "SPARTAN-GRAPPA Educational Symposium on Axial Spondyloarthritis (axSpA) and Psoriatric Arthritis (PsA)" on Saturday, October 5, 2019 at the Detroit Marriott Troy, 200 W. Big Beaver in Troy. This CME educational opportunity is geared towards Physicians and Healthcare Professionals. Dress: Business Casual.
AGENDA
7:00 am Registration and Breakfast
8:00 am Symposium
-Clinical Aspects of AxSpA & PsA
-Management of AxSpA & PsA
-Ultrasound
4:00 pm Conclusion
MRS will be covering the room and tax expense for our out of town members for Friday, October 4th. Please contact Tammy Guastella at tguastella@outlook.com or (517) 203-5560 if you need would like a hotel room reserved for you. Please see attached for additional information.
Here's the link to the meeting registration. Sign up today!!
Prior authorization red tape and step therapy delays care and treatment for Michigan patients
Michigan physicians, clinicians, and health care providers see it every day. They examine patients, and together form a plan of care, often including additional tests, prescription medicines, and treatments – before insurance companies step in with prior authorization and step therapy red tape to prevent patients from immediately accessing the care they need.
When insurance company bureaucracy gets between a physician and his or her patient, patients get sicker, health conditions worsen, and the cost of care skyrockets. That's not right. Health can't wait, and we're doing something about it.
We are excited this week to launch a groundbreaking new effort to improve patient care. 
Health Can't Wait is a coalition of patients, health care providers, and patient-support groups working together to put Michigan patients first by ending dangerous delays in patients' access to health care caused by insurance company bureaucracy, including prior authorization red tape and step therapy requirements.
The coalition is being led by more than a dozen patient advocacy and health care organizations, including the American Cancer Society Cancer Action Network, Susan G. Komen Michigan, the Michigan State Medical Society, the Michigan Rheumatism Society and many, many more.
You can learn more about Health Can't Wait, the growing coalition, and its work online at HealthCantWait.org. 
But we need your help!
There are three things you can do to make a difference.  
First, share your story. Have you, a patient, or a member of your health care team witnessed or experienced a delay in care caused by prior authorization or step therapy? You can share your story – and your patients can share theirs – online at HealthCantWait.org. Your patients' willingness to speak out about the impact insurance company red tape has had on their health couldn't be more important, and sharing their story couldn't be easier. 
Second, share the news about the coalition and the importance of this reform. Share the website on social media. Speak out to your friends, family and colleagues, and consider reaching out to your own lawmaker to encourage reform. The team at MSMS is standing by to help you craft and share your story and to connect you directly with your state legislators. 
Third, please consider a donation to Health Can't Wait. Simply click "contribute" on the website to join our team. Your contribution could make all the difference.
The Health Can't Wait coalition's work couldn't be more important. 94 percent of Michigan physicians report that prior authorization red tape causes delays in care for their patients. Prior authorization red tape is part of a staggering 92 percent of all care delays, and those delays can be devastating.
In fact, 78 percent of physicians trace prescription and treatment non-adherence to prior authorization delays. In other words, when red tape and bureaucracy prevents patients from timely access to the medicine and treatment they need, those patients are dramatically more likely to suffer the devastating health effects that come from nonadherence.
Sicker patients. More frequent visits to the emergency room. Longer hospital stays. Bigger bills. That's not right. Health can't wait.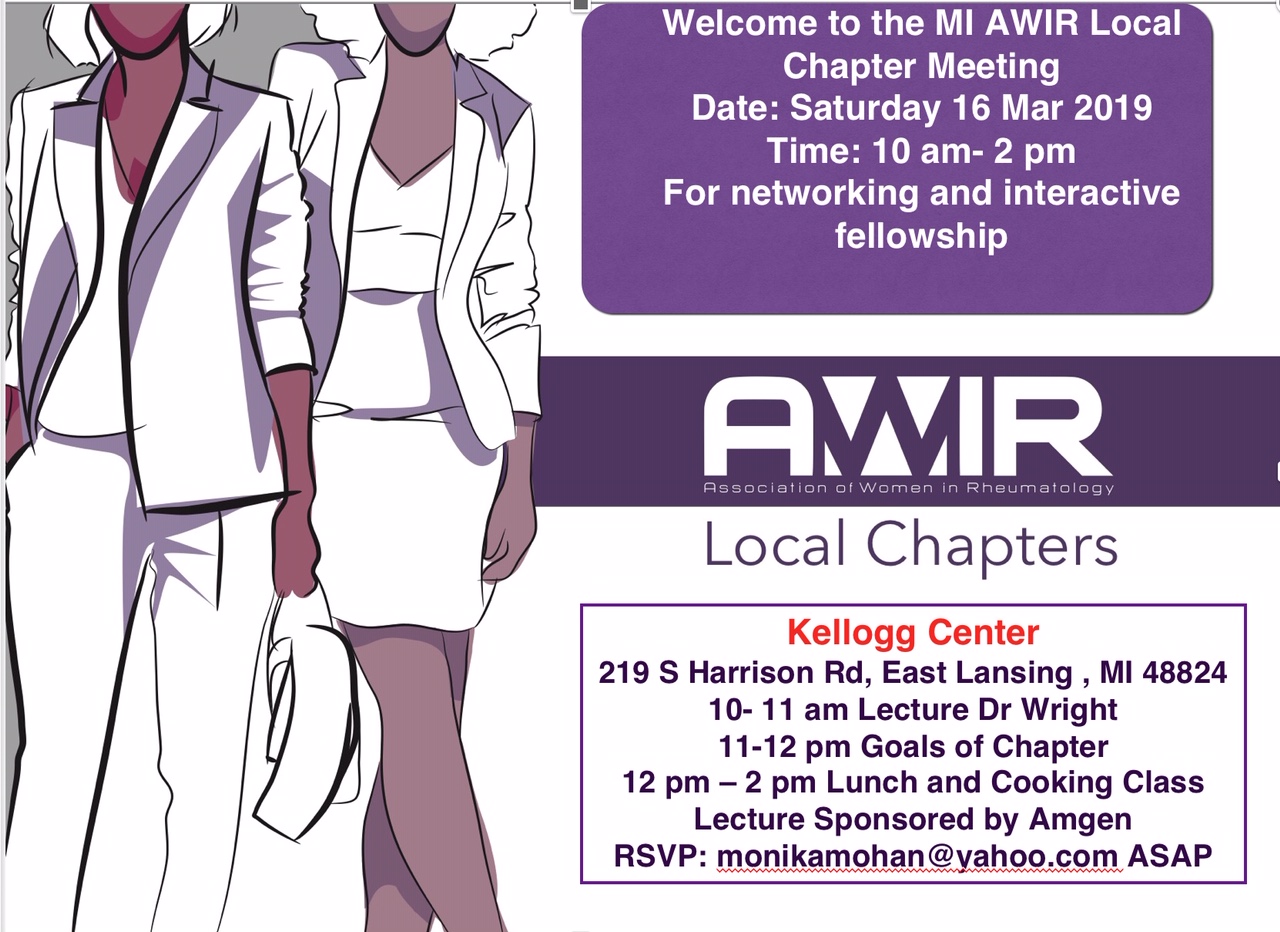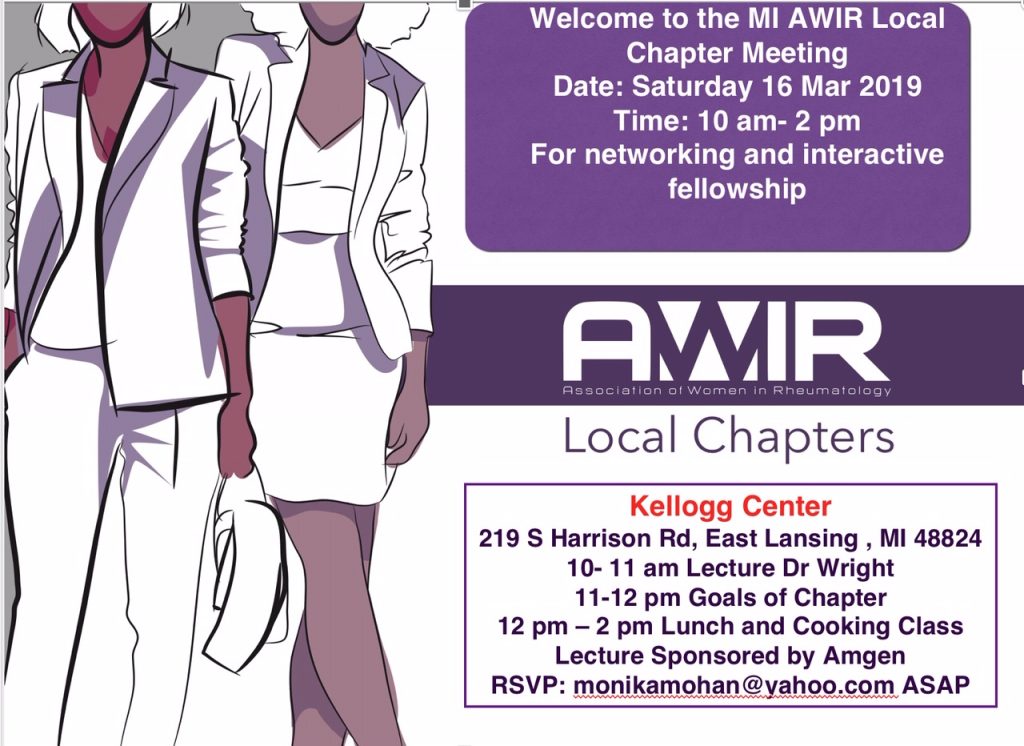 Join us for the first AWIR meeting in Michigan.
You do not need to be a member of AWIR to attend and only the first hour is pharma sponsored.
The Let MI Doctors Decide initiative has released a new report card on the 25 largest health plans within Michigan's Medicare prescription drug program. It examines the use of access restrictions, such as step therapy and prior authorization, on seniors with autoimmune diseases.
The new resource is particularly timely given the proposed rule issued by the Centers for Medicare and Medicaid Services (CMS) earlier this week that would broaden the use of step therapy within the Medicare program.
Click here to read the full report card. You can access the related press release here.
Let MI Doctors Decide is led by the Michigan-based American Autoimmune Related Diseases Association (AARDA) in partnership with five local patient advocacy and health care organizations. The initiative aims to help patients and doctors navigate step therapy practices. To learn more, visit letmidoctorsdecide.org.
Save the Date for the MRS Billing and Coding Course on Friday, April 27, 2018 at the Westin Southfield Detroit Hotel. Instructors will be Antanya Chung and Melesia Till from the American College of Rheumatology (ACR). This Rheumatology Billing & Coding Course, presented at the ACR's Annually Meeting, will be complimentary for Michigan Rheumatism Society members and staff. More details to follow.
The Michigan Rheumatism Society CME Summer Conference will be held at the Grand Traverse Resort in Acme, Michigan on August 11 -13, 2017. We are excited about this year's lineup of speakers and hot topics.  You can earn up to 11 CME credits.  There will be opportunities to network with your colleagues and learn about new products in the Exhibition Hall.  New this year is the Scientific Exhibition Hall where you will be able to view scientific posters and have questions answered from the medical science teams of our pharmaceutical colleagues.  There is a welcome dinner on Friday night and down time to spend as you wish throughout the weekend.
For any questions or to reserve a hotel room at the discounted rate call Tammy Guastella at 517-203-5560 or via email tguastella@outlook.com.  There are only a few discounted rooms available for Friday and Saturday nights at the Grand Traverse Resort so call today!
Amway Grand Plaza Hotel
Grand Rapids, MI
October 7-8, 2016